Welcome back to my page, hope you guys are doing great, 
After all the reviews I do I thought my readers got bored by only reading the review of skincare & makeup. 
So here I m with something different.
Today I m gonna share something different something special for me.
As a blogger I try hard to l creates new & different content, and try different things. SUBSCRIPTION BOX  is one of them, I was looking forward to reviewing subscription boxes & finally, I got an opportunity to share my subscription box views with you guys,
So a few days back I received my first subscription box from THE SWAG WORLD I felt honored that they trusted me & sent their "Mini swag box" Swag box is A jewelry subscription box,  which makes sure your jewelry is full of swag.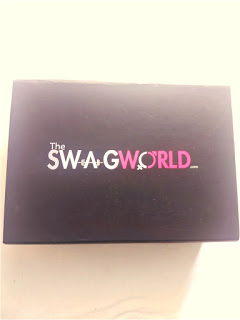 As I always provide some insights to connect people with the brand directly do check what they have to say.

About The Swag World:
The Swag World" believes in high customer satisfaction. We value the love and trust you place in us and promise to do everything possible to make your shopping experience as magical as it can be. If you are not happy with our products and the items we have chosen for you, don't worry we have an easy return, refund, and cancellation policy for you.
They operate from – Jaipur Rajasthan
There  Mission- is to deliver the latest trends in a single packaging.
To make it easy for boys to choose gifts for their sister-wife girlfriend female friends and other important females in their lives.
Year of launching- 2017

How many types of boxes do they have?
They have an amazing range to choose from, they have six types of Swag boxes.
Variants of boxes /  Price for 1 month
◆ Mini swag box.             / 799 INR
◆ Princess swag box.         / 1199 INR
◆ Swag box with bonus.     /1499 INR
◆ Classic swag box.           / 1499 INR
◆ Style my swag box.          /1499 INR
◆ Curate your swag box /1999 INR

Packaging:
It comes in a thick black matt box with their logo printed on top, this is the most elegant & royal packaging I have ever since. Totally in love with the box.
Inside the box, they carefully placed the jewelry with some of their business cards.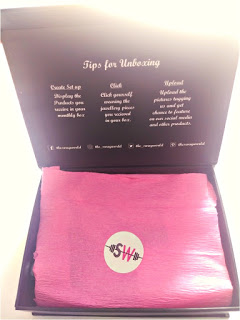 What did I get in the mini swag box?
I got two jewelry pieces :
Bohemian red Neckpiece
Bohemian red earrings
My experience:
I like the concept of a swag box as they have an amazing range to choose from, & they will send you jewelry of your choice which is great. You just have to go through with simple steps.
1 –  create your account
2 – they will provide amazing categories just select what you love
3 – type your address
4 – voila your swag profile is ready 
& Now they will send you the most fashionable jewelry according to your profile.
The swag box reaches me within 4 to 5  days from Jaipur to Chennai which is super fast delivery, they pay a lot of attention to packaging so no damage can happen.
the QUALITY of jewelry is excellent you can blindly trust The Swag World when it comes to quality whether it's about jewelry or packaging, they deliver the best.
As I got a bohemian red set it will be perfect for me it will go very well with the gown, cotton sarees & Kurtis.
P.S.- I m gonna create some amazing looks with this jewelry so keep updated yourself.
Blog Credit: Mybeautydreamz