You may have a lot of good and Trendy collection of necklaces but… knowing which necklace suits the best to the different necklines is important.
What to wear or how to accessorize the necklace with your outfit's neckline in a perfect way….???? Here is your guide.
The different necklines we have are:
1. Square neckline.
2. Round neck.
3. Collared neck.
4. V neck.
5. Turtle neckline.
And the new trending
6. Off-shoulder
And finally
7. Boat neck.
1. Square neckline:
This is one such neckline that suits all the body types very well but equally very tricky in choosing a perfect necklace. Opt for angular pendant necklaces which looks perfect.
2. Round neckline.
So the other most common neckline we prefer is a round neckline.
The perfect necklace to this neckline that suits is either a choker or a long strand necklace.
3. Collared Neckline :
If you are wearing an outfit with a collared neck maybe it is a formal shirt or a collared Kurti…a short chain with a delicate pendant will look stylish and classy…
4. V neckline
If you are wearing a V neckline outfit…you don't need bulky necklaces to accessorize. A simple strand of necklace goes well with this neckline. Or a simple long chain with a simple pendant. Also, you can wear it with many different ways; like single-chain to give minimal look,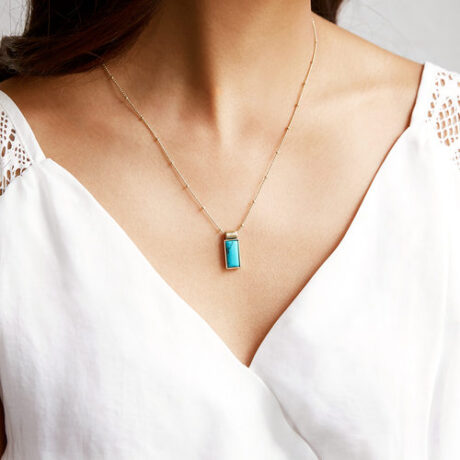 Strand of necklace with simple pendant double chain or multi-chain layered necklace.
The best all in one necklace.
5. Turtle neckline
Turtle necklines come in fashion during the winter. And adding a perfect jewelry piece gives you that Trendy swag.
The necklaces that go well with turtle neckline are either a statement choker or a geometric choker.
6. Off shoulder neckline
This neckline is trending over these days and you get a lot of space to style and experiment with a perfect necklace.
You can opt for a strand of pearl necklace or a statement collared necklace.
7. Boat neck line
Long beaded necklaces look perfect on boat neckline. Be it either a desi outfit or a western outfit it looks terrific.
This gives the outfit a glamorous look.