Hey, Gals, so accessorizing is something which is majorly loved all women worldwide. Although the choice of accessories can be varied from minimal to bold …neutral to bright …. long to small and a lot more. While choosing neck pieces a question "WHICH NECKPIECE" always haunts a lady with class and particularity. She will be always conscious which necklace goes well with which neckline. So for all the pretty ladies here is a quick guide for necklaces and the necklines.
Necklace 1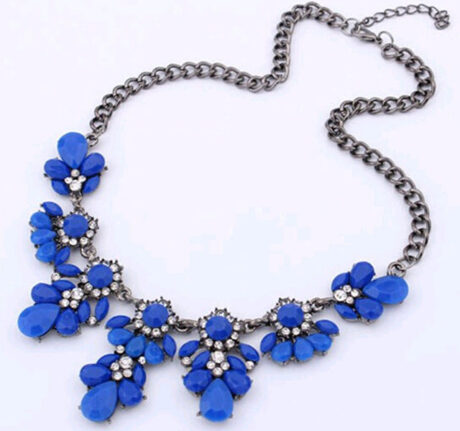 This vintage navy blue rhinestone gold plated chain necklace has been beautifully curated elegantly with pendants studded all over the chain. Wear this necklace with glitz and glam be it a party night or ethnic wear, just flaunt this neckpiece in vogue. It goes well with round, scoop, sweetheart, or asymmetric necklines.
Necklace 2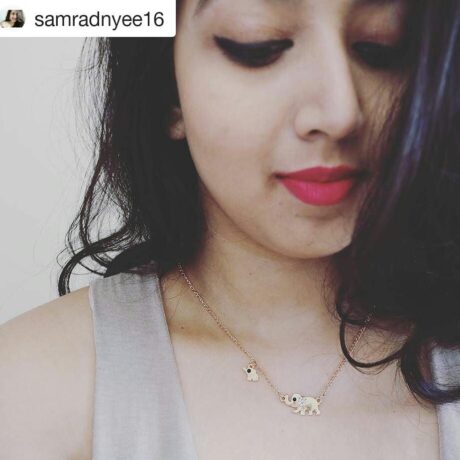 Collar necklace brings out the chic in you. The beautiful mother and baby elephant chain are a 24-karat gold plated single chain. You can team up this chain with any cute skater dress or western dresses.  It goes well with a round, scoop or asymmetric necklines.
Necklace 3
Elegant Artificial Layered Necklace which defines the symmetry and femininity to your outfits, its best paired with solid color dresses or can be teamed up with tops that have a V-neck or turtle neck. The layers add a touch of length to any of your outfits.
You can wear this one necklace in three different ways. You can carry it all together.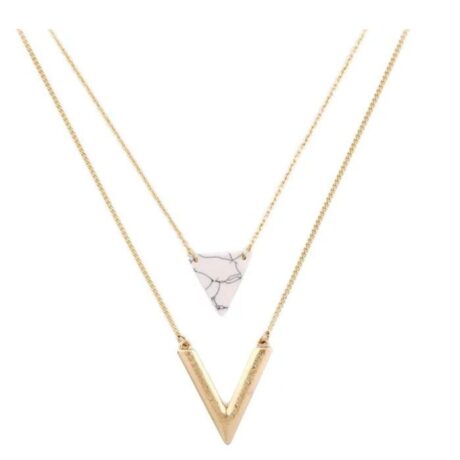 you can carry the single gold piece.
or you can flaunt this single marble piece too.
So basically this one necklace can be styled in three different minimal ways.
Necklace 4
Trendy Tassel Statement Women Choker Necklace is a way to define any dull dress a trendy touch, the tassels are back in fashion! So bring the 90's and 80's touch to trend your day with these gold tassel choker. This trendy choker can be paired with cute dresses or any collared shirts with the button open or with V-neck, sweetheart necklines.
Necklace 5
 
Multi-Layer Bohemia Tassel statement choker Necklace is very simply yet very trendy and sleek look to wear, Bohemia style is in trend; this necklace can be paired up with t-shirts or any of your dresses with V-neck or round necklines.
Necklace 6
Long Golden Chain with Stimulated White Pearls is a very simple and elegant chain that can be paired up with any of your Indian or Western outfits. Pearls bring a very pleasant look to any of your outfits! can be worn with round necks, boat neck or turtle necklines.

Necklace 7
Minimalist Fashion Vintage Arrow Cross Lucky Necklace Pendant. This necklace has a little touch of vintage look yet with a trendy look. Arrows bring the hope of new beginnings, so team up this beautiful vintage necklace with low neck t-shirts or any low neck dresses with round or scoop necklines.
Necklace 8
 
Boho Shining Crescent Flower Pendant Necklace brings a depth with different shades of blue yet it brings that trendy touch! This necklace can be paired up with floral one-piece dresses or any collared shirts which bring depth to your outfits. The perfect necklines for such necklaces is a scoop , sweetheart, or round neck.
Necklace 9
Vintage Leaf Pendants Statement Necklace is a very feminine necklace that brings a very beautiful look to your outfits. These leaf pendant can be flaunted with one-piece dresses or any collared shirts or any outfit of your choice. Round neck or scoop neck is perfect for such neckpieces.
Necklace 10
Green Multilayer Designer Necklaces with Pendants is a very cute sleek necklace, which has layers of colors that brings length to any of your outfits. This necklace is best paired with long neck t-shirts and a one-piece dress. It goes well with round or v-necklines.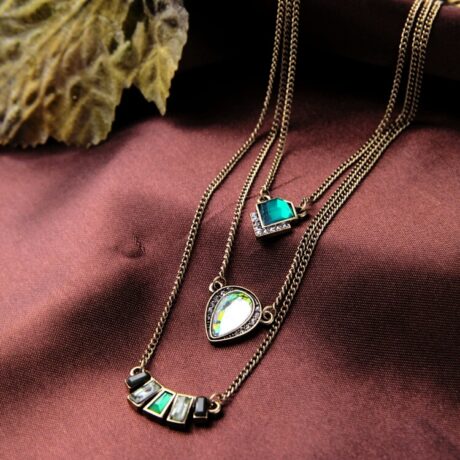 So let us go ahead and swag these neckpieces in style comment below which one is your favorite and share your pictures with #theswagworld and tag us @theswagworld on Instagram.
XOXO